WHEN SUPERFOODS SHOW UP IN SURPRISING PLACES
---
You may find superfoods mostly used in smoothies. Seems like an obvious applications. However, superfoods are nutrient dense and with some creativity, you can apply them to a long list of recipes, from drinks to salads, main dishes and desserts. Spirulina was my superfood of choice in the cilantro-mint dressing because of its has detoxification properties. It also has theability to flush out heavy metals and chemical toxins from the body. More on Spirulina later.
The greens and avocado salad was just an accompaniment to the dressing really. This was so simple to make, full of flavour and the spirulina added an extra shot of nutrients.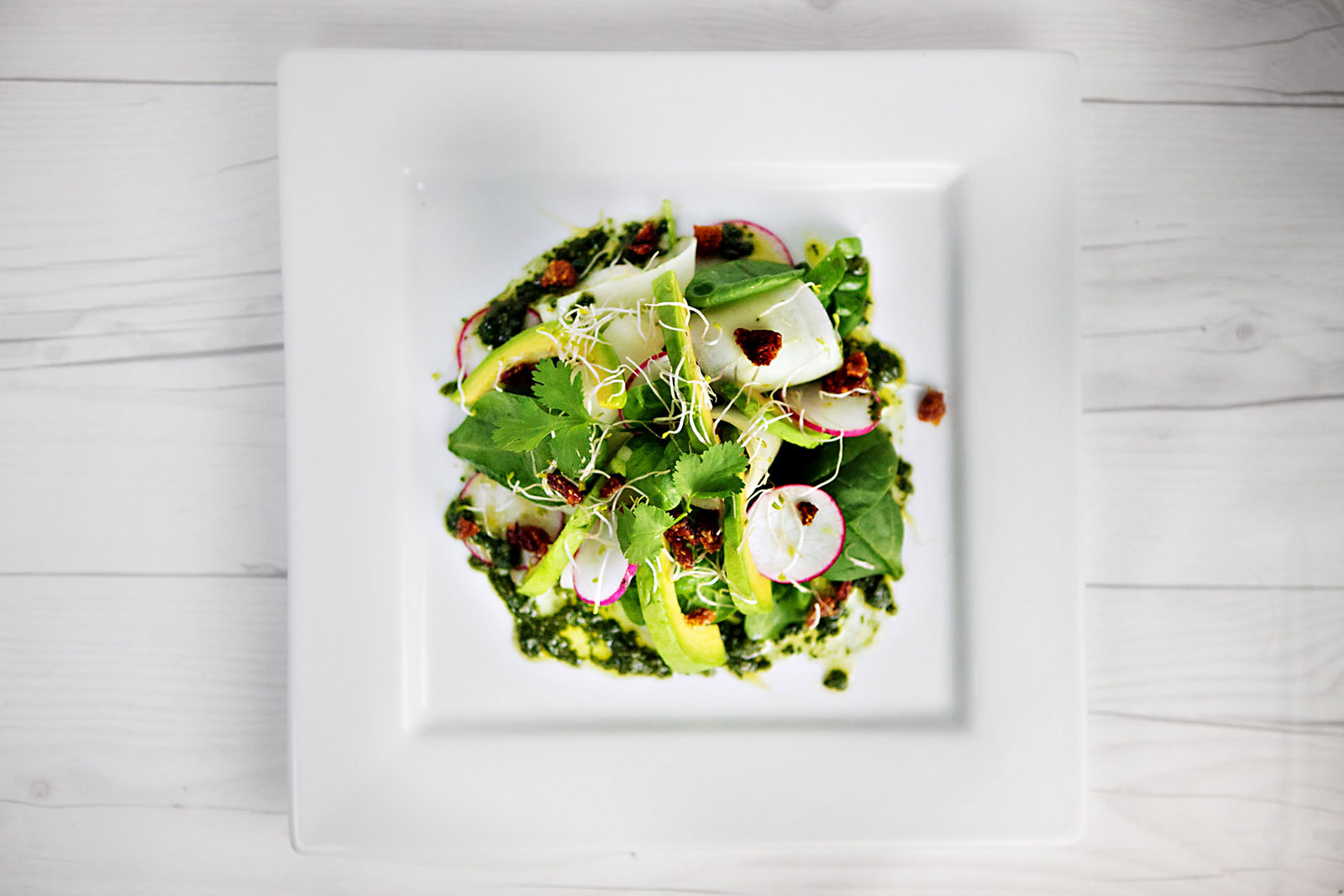 Print This Recipe
Cilantro-Mint superfood dressing
½ cup cilantro leaves, lightly packed
½ cup mint leaves, lightly packed
1 garlic clove
1 green jalapeno pepper, deseeded
1 tsp fresh lime juice
2 tbs olive oil
½ tsp spirulina
1 tbs hemp seeds
1 tbs liquid sweetener of choice
Superfood: 1 tsp Spirulina
Method
Blend all the ingredients together except the olive oil adding water if needed. Slowly stream the olive oil and pulse a few times. Store in the fridge until ready to serve.
green salad
½ cup packed spinach
½ avocado, thinly sliced
1 cucumber, sliced thinly
¼ small head of lettuce
1-2 radishes, thinly sliced
hemp seeds, to garnish (optional)
microgreens, to garnish (optional)
Method
Spread the dressing on the center of a plate circling outwards. Arrange the greens, avocado, radishes on top of the dressing, piling ingredients upwards making the salad high. Sprinkle with hemp seeds and microgreens as garnish, then serve.
#vegan #plant food #superfood #salad #spirulina