NOT YOUR ORDINARY FRUIT SALAD
---
After learning to sear pears for a dessert, I conjured this recipe up in my head. Imagine a plate full fruit, seared to perfection and served with a vegan ricotta! The caramelisation of the natural sugars in fruit turn them varying wonderful colours of brown. A delight! An easy dish to prepare for your dinner guests. And overall? Oh, what a joy!
Be aware. This dish is a simple one, but there are several steps - five to be exact. The preparation takes some patience, but if you want to rock your dinner party like a true culinary artist it is totally worth it.
Why stone fruits? Are they native to Nigeria? Let's start with the second question. No, they are not. And the first question? I just love them, found some in Lagos and here you have a recipe. Stone fruits are also known as drupe. Technically they are fruits that have large stones or pits inside. Their seeds are actually inside the stone. Peaches, nectarines, plums, lychees, mangoes, and cherries are all examples of stone fruits. You can sear them, grill them, make pies, jams or ice creams out of them, or just bite right into them raw. Regardless of how they are prepared (or not) you can't go wrong.
For this recipe I used plums, peaches, apricots, and cherries.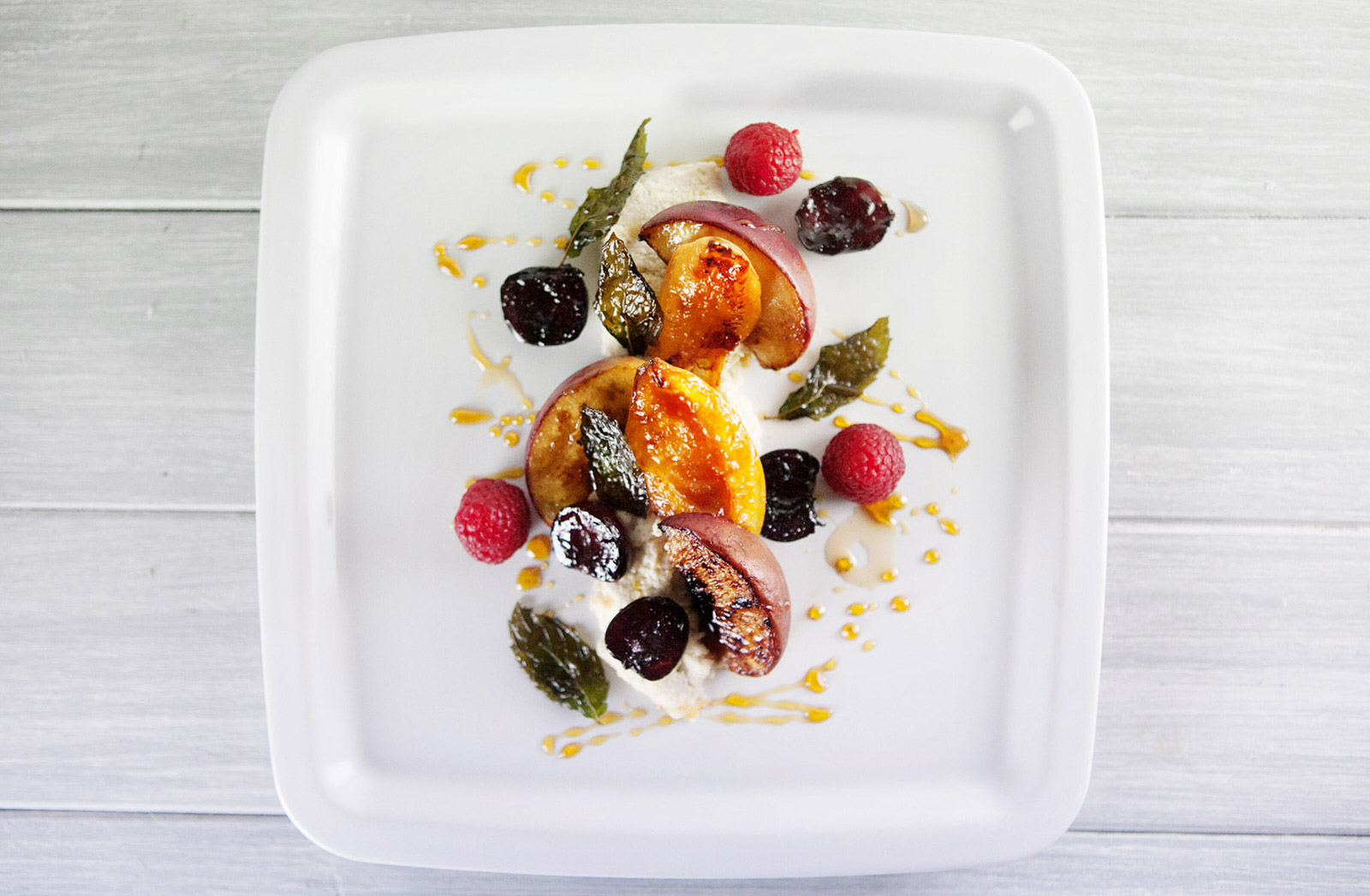 Print This Recipe
Seared Stone Fruit Salad
Vanilla almond ricotta. Fresh berries. Mint syrup. Crispy Mint Leaves.
Seared Stone Fruit
2 plums
2 apricots
1 Peach
¼ cup cherries
2 tbs rapeseed oil
Preparation
Wash the stone fruit, remove the core and cut in halves (cherries, apricot) and , peaches (quarters)
Dab the fruit with kitchen paper (paper towel) to blot them dry. They should be as dry as possible
Heat a saucepan over medium high heat. Once hot, add oil. As the oil is almost smoking hot, place stone fruit in the pan in batches and sear each side 2 to 3 minutes until they begin to brown. Remove from the pan and set aside.
Almond Ricotta
1 cup almonds, soaked 8 hours
¼ cup filtered water, plus more as needed
½ tsp nutritional yeast
1 tbs + 1 tsp lemon juice
2 tsp agave
2 tsp lemon zest
¼ tsp salt
Preparation
Prepare the almond ricotta. Prepare almonds; blanch and remove skins. Place all ingredients sans lemon zest in a blender and blend until smooth. Fold in the lemon zest. Set aside.
Prepare the mint syrup bring water to a boil in a pan, then gradually add the agave, stirring until well combined. Add mint and reduce to medium heat. Simmer on low until mixture begins to turn to a syrup consistency. Remove from heat, pass through a strainer to remove mint leaves, whisk in lemon juice and allow to cool. Set aside.

Mint Syrup
¼ cup filtered water
½ cup agave
2 tbs mint leaves, minced
1 tbs lemon juice
Pinch of salt


Preparation
Bring the water to a boil in a small pan. Slowly add in the agave, and stir until well combined. Add mint and reduce to a medium heat. Simmer on low until it turns to a syrup in consistency

Remove from heat, pass through a strainer to remove the mint leaves, whisk in lemon juice and let cool. Set aside.
Mint Crisp
¼ cup mint leaves
½ tbs Olive oil
Preparation
Crisp mint leaves by removing the stems. Wash and leave to dry on paper towel to remove moisture. Toss in oil and layout on a baking tray. Place in the oven on low heat 120F for 3-5 minutes
Once done, remove leaves from the pan and transfer to a plate lined with paper towel. Sprinkle with salt and leave to cool.
Garnish
Fresh berries
1 tbs lemon juice
Preparation
Wash berries and place in a bowl. Pour in the lemon juice and toss to ensure all are coated.