THERE'S SOMETHING WONDERFUL ABOUT TURNING VEGGIES INTO NOODLES
---
Sometimes you may want to eat pasta, but not really. That's where zoodles come in. If you happen to have a spiralizer there's an endless number of ways you can spiralize a long list of fruits and vegetables. It's so much fun to do.
Now on one of those days when I felt like having pasta, but not really, I decided to spiralize some zucchini, hence the name; zoodles (vs. noodles). I must say, I was surprised by this dish, it really turned out well, if I may say so myself. Brazil nuts are not a nut I use often, but experimenting with new ingredients is something I enjoy. This particular nut has a very rich in texture. It's flavour profile is nutty with tropical notes. You can certainly substitute brazil with cashew nuts.
Warning. Preparing this dish does require commitment. I'll be testing variations of this dish with other locally available ingredients, but for now, I stretched my imagination and this idea. You can find brazil nuts in Lagos. Send me a note if you need to know where.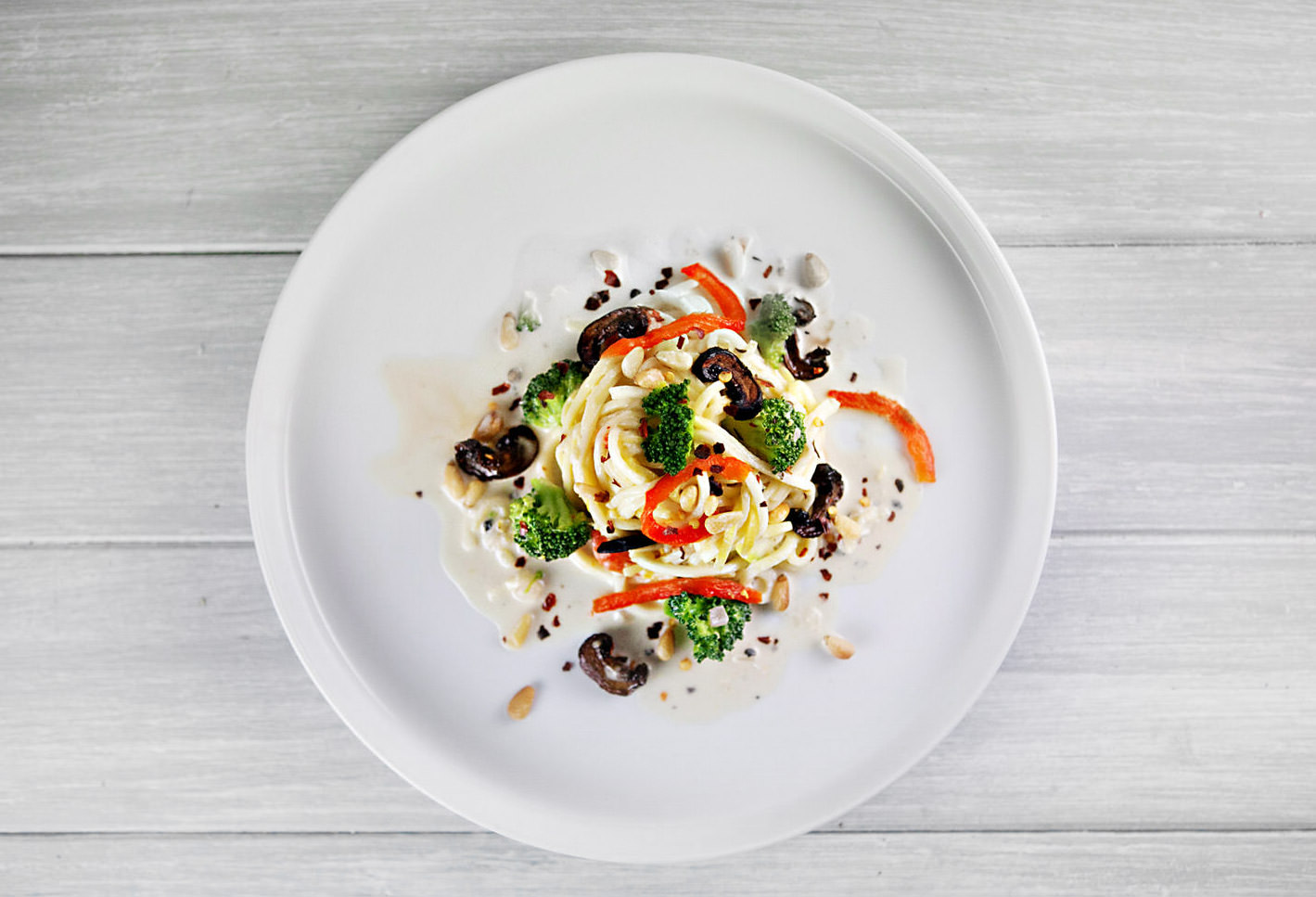 Print This Recipe
Zucchini Noodles in brazil nut alfredo
Smoked shiitake bacon. Steamed broccoli. Roasted red peppers. Pine nuts. Chilli flakes
Zucchini Noodles
2 medium zucchini, ends trimmed
Preparation
Use a spiralizer to spiralize the zucchini into noodles, place in a bowl and set aside
Brazil nut alfredo
2 cups brazil nuts, soaked 8 hours and rinsed

2cups water

1 tbs grapeseed oil
***
1 cup brazil nut cream

¼ cup stock

1 shallot diced

1 tsp black peppercorns, crushed

¼ lemon, juice of

1 tsp nutritional yeast

1 tsp lemon zest

Pinch salt
Preparation
Blend the brazil nuts and water into a pulp. Strain through a nut milk bag to make a brazil nut milk. Place the milk back in the blender begin to blend on a low speed, add in the salt and stream in the oil and then set aside

Place a skillet on medium heat, once hot add the oil, then add the shallot, black peppercorns, and sauté. The shallot should becomes translucent. Add the salt, lemon juice, vegetable stock and zest then simmer to reduce. Add the brazil nut cream and stir frequently to prevent burning.

Once done lower the heat, toss in the zucchini noodles and simmer on low for 2-3 minutes

Remove from the heat let it cool slightly then add in nutritional yeast and turn noodles lightly to incorporate
Shiitake Bacon
½ cup Shiitake mushrooms (wild mushroom alternative), sliced thin

2 tsp olive oil

2 tsp coconut aminos (soy free option)
Preparation
Mix oil and soy sauce (coconut aminos) in a bowl then add the mushrooms. Toss to coat evenly. Place the coated mushrooms on a lined baking sheet. Roast in the oven at 375F for ~40 minutes. Stir every 10-15 minutes to prevent burning.

Remove from the oven and set aside on a plate lined with paper towel
Garnishes
½ cup broccoli florets

1 red bell pepper

2 tbs pine nuts, to garnish

Dash of chilli flakes, to garnish
Preparation - Charred pepper
Put the red bell pepper on the grill char the skin on all sides.

Once charred, put the pepper in a bowl, cover clingfilm to steam. When cooled, peel off the skin, cut in half, remove the seeds and then julienne and set aside
Preparation - Steamed broccoli
Place steaming basket in a pot of water, cover with a lid and bring water to boil
Wash the broccoli, pull apart florets into small sizes. Once water is boiled, place broccoli into the steaming basket and steam for 6-8 mins until tender. Once done remove from the basket and place in an ice bath
Strain and set aside for plating
Plating
Toss the charred julienned red bell pepper, broccoli and shiitake bacon. Swirl the zoodles on a plate piling them as high as possible. Sprinkle pine nuts and chilli flakes over the zoodles to garnish.
#vegan #plant food #main #zoodles #vegan alfredo #brazil nuts